What do people say about my approach to health and improvement?
"To watch Helen is to be amazed, astounded and inspired"
Read Tracey's Review
To watch Helen commubnicate with Horses, seemingly telepathically, is to be amazed, astounded and inspired.
Meeting her has been a complete life changing experience for me. Never have I met anyone who has such an inherent gift for putting people at complete ease.  Helen's methods work on so many levels, all based on trust, openness and honesty and will improve your relationship with horses, and your relationship with yourself and other people.  Let Helen be your guide.. and prepare for the best experience of your life"
Dr Tracey King, South Wales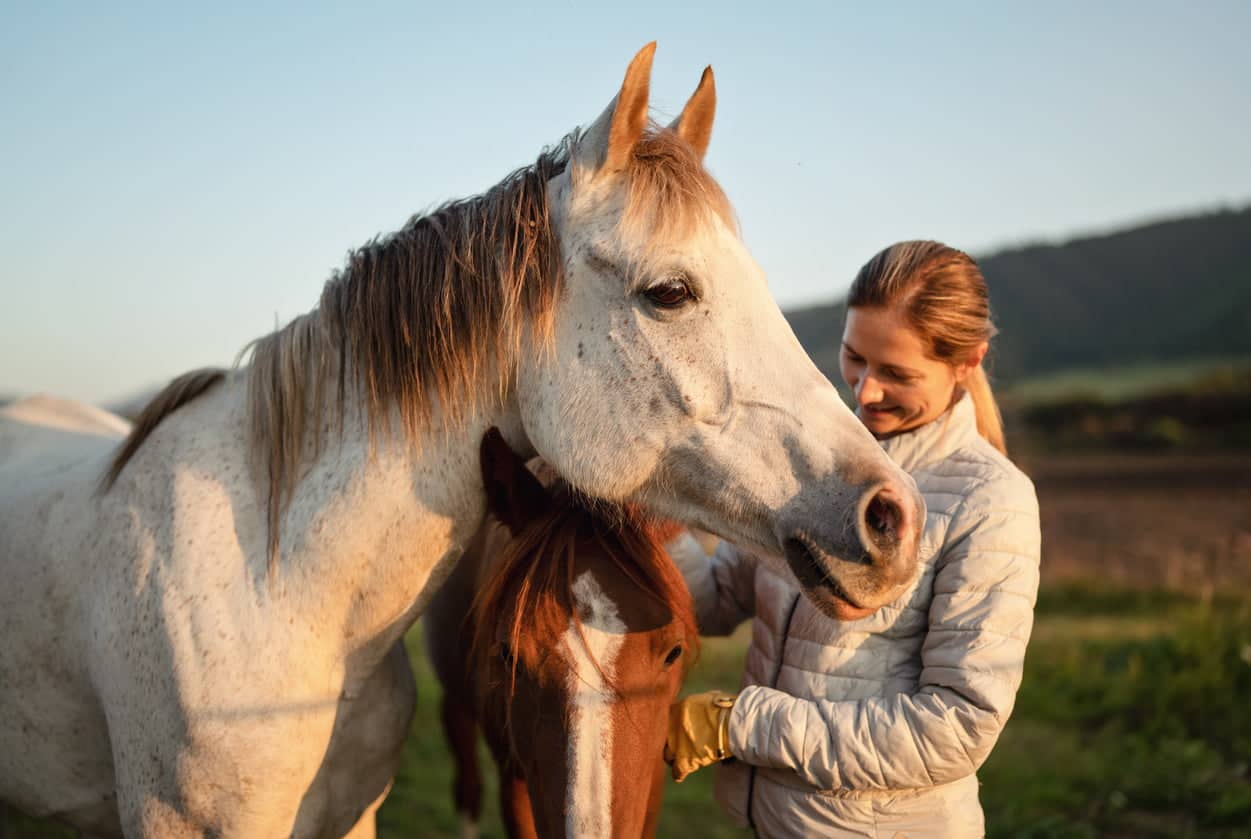 "I now have the ultimate relationship with my stallion""
Read Becky's Review
"After attending a two day, UK clinic with Klaus Hempfling (Dancing with Horses) he told me I shouldn't be with my stallion, that the problems we had, couldn't be solved. The reality was he didn't have the key we needed to progress. In only two hours Helen helped me find it. I now have the ultimate relationship with a horse.
Helen has been my greatest mentor over the last ten years. In that time she has improved me as a person in every walk of life and most importantly, to my innate way of being with horses and dogs.
I have witnessed so many amazing things being around Helen. She has, for example:
Detected a fracture in my stallions neck from 20 miles away that the vet missed (proven by x-ray)
Saved my whippets life when she was dying from an auto-immune disease after surgery failed
Increased the healing rate of my husbands broken leg by two weeks to the astonishment of doctors
Stopped cancer twice in my Doberman (proven by x-ray and operation)
Last year I suffered a bad fall off my horse onto the road. I broke three ribs, chipped an elbow and was in great pain; it severely knocked my confidence. Helen helped me and I felt the change take place in my body; I felt the pain disperse and was able to get back to working and riding again with confidence.
Sadly, I recently lost my horse of a lifetime and was unable to recover from the grief. The pain of losing him changed my relationship with horses and I didn't think I'd ever be able to form a new bond with another. Helen helped me get over the grief. She re-connected me with this horse and I was able to say goodbye and move on as a result.
Helen's powers are difficult to understand so I no longer try to understand; I just enjoy the benefits. I have learned and seen the most inspiring things through working with Helen.  She gets the best out of every situation, creates learning in every moment and empowers people to do better than they thought they could.
Every animal Helen works with be it a dog, horse or human changes for the better. Whatever you want to learn, however you want to improve, what ever health problems you can't fix in yourself or in your horse or dog, if you want the very best for yourself and your animals, Helen is the place you'll find it"
Becky Jones
Professional Equestrian, November 2016
"Something from the heart – I feel connected to nature again. It's like I got the key today, the key that I lost somewhere along the way. Thank you again, again and again"
Yvonne, Ogmore
"I booked to help my horse but I didn't expect it to open up a whole new world with all of my horses and also my family. I'm forever grateful. I couldn't feel better about life and stress is a thing of the past. I have 100% confidence and belief in Helen's approach and would refer her to anyone"
Sarah Bridges, Berkshire
"Since my session… something really strange has been happening… people are unexpectedly smiling at me… since it has been happening for a couple of weeks now, I believe it has to do with my rather transformative experience with Helen and those horses in Wales."
Tania Ahsan, Author, Freelance Journalist
"Transformational.. so powerful, so therapeutic, that I find it hard to describe.. empowering, healing and an amazing tool for the recovery of Self-awareness and esteem"
L. Stagg, HECCS Swansea University 
"Thank you so much for a truly wonderful and eye-opening experience.  The best four days of my life.  You and the horses are amazing.  I will never forget this experience and I'll be back!"
Esther, Cumbria
"Helen and her teachers combine horsemanship with personal development in the greatest way.  I'm still enjoying the openings that they helped me create that day and my approach with animals hasn't been the same since.  I have finally tasted what making true contact is all about, with animals, with other people and with myself"
Arnold Timmerman, Netherlands
"I would like to thank you very much for a stunning and life-changing weekend. Working with your horses was such an honour, the wonderful peace and calm experienced with them felt unreal.  The boost to my confidence and the total enlightenment of where my new direction is leading has invigorated me.  I didn't want to leave on the last day, it felt like I was leaving home and I can't wait to get back".
Ann, Staffs
"The Horses are amazing, I've never felt so calm and at peace. I felt like a different person able to see a light at the end of the tunnel"   –
Charlotte Court, Cardiff
 "A truly wonderful experience!  Like a breath of fresh air after a long, hot day I found a new way of…staying optimistic about possibilities and the sheer joy of being in the world"
Karen Jones, Cardiff
"Freedom is the word – connection, sharing and also following my own path – dreams are to be lived.  It was an amazing, wonderful day.  Thank you from the bottom of my heart"
Charlotte Timmerman, Netherlands
"Enlightening – an opening to a whole new way of thinking and living!  The Horses are amazing with their honesty, kindness and love, along with Helen's and her 'insight' is an extremely powerful experience not to be missed!"
Jane, Hereford
"A great day enjoyed by us both…  as an interesting point, when we arrived home last night, the 4 dogs went absolutely crazy.  They always give you an enthusiastic welcome but this was amazing.  Even the Dalmatian had to come and sit on my lap, which he never does, (mainly because he is too big and weighs 4 stone!)"
Dawn Reilly
"After attending a two day, UK clinic with Klaus Hempfling (Dancing with Horses) he told me I shouldn't be with my stallion, that the problems we had, couldn't be solved. The reality was he didn't have the key we needed to progress.
In only two hours Helen helped me find it. As a result, I'm discovering the ultimate relationship with a horse. If you are fortunate enough to benefit from Helen's gift, your life will change forever"
Becky Jones, Arabian Breeder, S. Wales