Client Case Study
Roz Woodward's experience with an eating disorder is changing views on health, wellbeing and food
"Helen saved my life. I am forever grateful" 
"I
f you do the same thing as everyone else, you get the same results as everyone else.
I
n trying something different, I got the solutions I had searched for my whole adult life. I consider the whole experience with Helen priceless".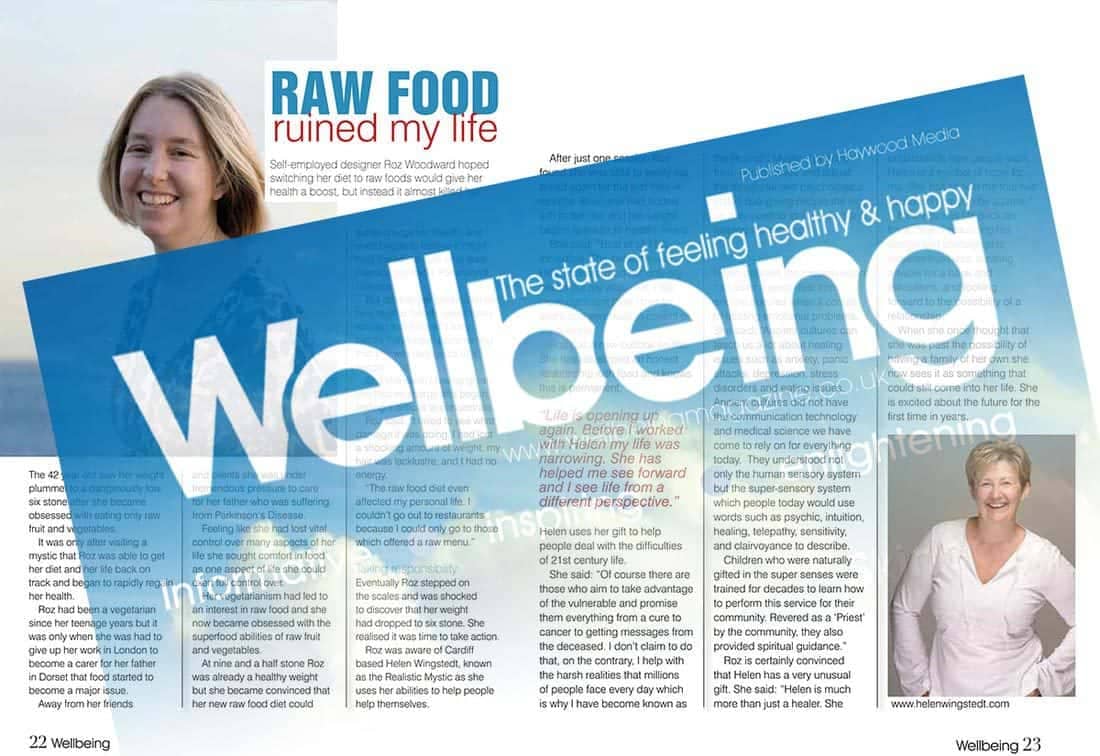 Read more...
"Helen has facilitated real time, personal evolution before my very own eyes; I still find it too sci-fi like to fully appreciate.
I had tried many other healing services, for a couple of years, prior to working with Helen.  None of them worked and in 2010 I lost weight rapidly going from 9 stone to 6 in a matter of months with an eating disorder. One session with Helen, and my appetite came back overnight.
The memory of the strong urge to eat that came over me is a constant reminder to me of Helen's power and ability and of the difference you get when working with a real expert who knows what they are doing. By the end of the week I was eating fish again after being a vegetarian for 25 years. Over the next month I started eating meat again and was quickly back to a healthy weight and that has been permanent.
Helen's approach is one of helping people to help themselves, in ways they cannot do on their own without her particular kind of guidance.  Before meeting her I had a whole library of self-help books, but the answer was not in any generalised book.  
Helen held the key to me.  She knows me better than I know myself.  She helped me understand what's going on with me and how that was impacting my life today. She helped me see my situation differently so I could make new choices and decisions. This has opened up a whole new world of possibilities for me.  My whole experience working with her has been one of her facilitating my personal freedom, liberation, and empowerment.
Helen is one of the most down to earth, unpretentious people I know. She gets on with her job without a fuss or performance, giving herself no 'airs and graces'.  She doesn't take on titles such as 'guru' even though I regard her as such.
Like the very best masters of their art, Helen makes what she does look easy, belying all the skill that's going on 'behind the scenes'.  From working with her over an extensive period, my admiration for the intricateness and complexity of what she does grows and grows.
I have frequent 'GAW'  moments, (what I call 'genius at work'), where I come through the other side of something and just marvel at how the hell she has unravelled or enabled me to have clarity on that which was impossible to see or comprehend just moments before. I have multiple lightbulb moments; however with Helen it is more like more like being plugged into the national grid!
I have moments of knowing. Where something goes from being mere words that I have intellectualised, to something I now know personally. The more work with her I do, the more I get to 'know it', understand it in increasingly richer levels.
When you work with Helen, you work with the very best.  Helen is thinker, a questioner, an acute analyser and observer with a deep desire to understand what is going on, and get to the bottom of things. Helen has pushed and developed herself in a way few people in the world today have and continues to do this rigorously.  Helen can be a source of help for most people because she walks her talk; she's been there and figured it out for herself. She masterminded her own recovery from personal illness to being back within a short time, working in India and the UK creating and marketing new product lines.
Helen is a creative and inventive person who does not accept the standard line if it does not make any sense. This was so refreshing to discover when I first met her as nothing I was learning and reading was adding up or helping me other than giving a temporary boost.  Everything Helen does makes sense and her results soundly back her up.
Helen's breadth of talent, skills, knowledge and understanding combined with her varied training, and wealth of life experience, her inquisitive and inquiring nature have resulted in her own unique training model that is a dynamite combination.  The universal sensory systems that Helen works with bridge the species gap meaning what Helen can do is incredibly versatile and universally applicable lending it to multiple applications. This enables her to be widely effective and work with both people from all situations and walks of life as well as animals and pets.
Helen is equipped for whatever comes up with someone. I describe it as her 360 degree approach.  She can come at a problem from whatever the angle they require. We can be dealing with a health state one minute and business strategy the next.  I find this invaluable.  It saves time and money and is highly efficient.  I don't have to go to different people for each separate element but have been able to develop a deep understanding with one person that vastly accelerates the transformation process.
Through working with Helen I have discovered side-effects such as anxiety and depression are not a normal part of life and from that standpoint, don't just have to be coped with, worked around or managed. They can be eliminated and become a thing of the past.  It was a relief to find out there is nothing fundamentally wrong with me; I was just experiencing the side effects of past experience, both positive and negative. With Helen working from that starting point, everything changes rapidly.
Helen is always real with you. She never makes false promises or claims or commitments she can't live up to.  She doesn't go around saying she will 'cure' anything however she does guarantee to her clients that changes will always be for the better. However my personal experience of what I have witnessed her achieve has been that she is one of a select few in the world today that actually could claim 'cures'.
In 2010, whilst caring for my terminally ill dad with Parkinson's' disease, he developed a big open sore wound all down his leg that the hospital, doctors and nurses could not find a cure for.  Over 6 months they tried various creams and dressings. I mentioned his condition to Helen over the phone, knowing her abilities but to be honest in reality not expecting anything. Within days of the call his leg started to heal, completely clearing up within the week.  The doctors and nurses couldn't explain it.  Helen did not charge me for this work and I have never seen her charge for similar results of this nature.
Helen is realistic, straight talking and a frank purveyor of facts. She has the balls to say what is needed, when it is.  Some may find this uncomfortable but it is yet another of her USP's. At times this can be difficult to hear but through working with her I know I have to deal with the realities to experience change. All she says and does is always in her client's best interests to get the result they requested.  To this end Helen has helped me face up to myself and the person I had become and the effect I having on those around me. That has been a wakeup call. I haven't liked what I have discovered but that has been even more reason to change.  Helen's patience and firm guiding presence have seen me through my discomfort.
Helen is an engaging, enlightening communicator and presenter whose methods and teachings are ground breaking and not found in any books.  Her interest, enthusiasm and passion for what she does, is infectious and makes the whole process exciting and enjoyable. I find all she talks about incredibly stimulating and fascinating.  At mid-life, when I questioned if it was 'all downhill from here', and if there was 'more to life than this', Helen's answered this for me with a massive affirmative and opened up a whole new area of interest and world of possibility for me.  She is continually re-defining everything and enlightening me. Through Helen, I have a completely different understanding of concepts such as 'stress', 'happiness'. She made them not 'elusives' anymore, but tangibles that can be dealt with or states that can be achieved.  She has enabled me to see the world, myself and the state of being human differently and given me a rare glimpse into the amazing complexity of human engineering systems most have no idea exist.
In 9 years, Helen has always been spot on. The comments about me from friends, family and work colleagues after my first experience in 2006 of just one day with Helen took me totally by surprise.  Saying I was like a different person, that my eye contact was improved (that I hadn't known was bad until Helen pointed it out!) I had open and frank conversations with friends, hearing things coming out of my mouth that I wouldn't have said 24 hours previously.  It confirmed to me that Helen was actually achieving what other people just talk about. This has been re-enforced subsequently by all the work I have done with her, and despite her working to such a consistently high level and standards all the time, Helen always surprises me and exceeds my expectations every time.
Helen's service is highly valuable for single women professionals. This was my situation when I embarked on Helen's premier programme and worked with her intensely. I was single, self-employed and lived on my own. This meant I had no significant other to bounce ideas off and talk through key decisions.  Helen is a legendary strategist and her service has filled this gap and enabled me to direct my life forward again, take up opportunities and pick the routes that are in my best interests.
I have been able to talk with Helen in a way I had never talked to anyone ever before, without any fear or anxiety. Helen creates a safe space. I don't share or confide with anyone so looking back that was another major difference between her and other professionals I'd been to.  I just knew that for the first time in my life here was someone that wasn't going to be judgemental and was equipped to handle anything I needed to say, Helen doesn't take anything that comes up personally.  Nothing bad was going to happen and I could trust all that was happening was in my best interests. I knew Helen was on my side somehow. If I was committed to change, Helen was committed to guide me through what I needed to go through.
Helen is an attentive listener, genuinely interested in me and my objectives. That was incredibly reassuring and precious. It was of a kind I had not experienced before in my entire life, even from my parents. It made me feel I mattered, counted and gave me a basis and firm foundation to tackle and face up to facts from my past that I have avoided my entire life but that were crippling my present and future.
Working with Helen I have been astonished to find that there was another human being that knew exactly what I was thinking and was spot on with it all the time. In 9 years I have never been given inaccurate information.  In fact all that Helen has said happens the way she said it was going to and this includes looking to the years ahead.  Her knowledge, insight and perspective have proved invaluable to me in all areas of my life.  It's helped prepare for business meetings and get a bigger contract, have conversations with positive outcomes to name just a few.
Helen's premier service is an incredible whole lifestyle programme; it was absolutely tailored to me, my personality, needs and experiences. Helen's skills aside, the nature and way this programme runs is exceptional and unique in itself. It isn't structured on an appointment basis, that is impractical and not as effective. Instead Helen makes herself available to you 24 hours a day, and on a daily basis if necessary, face-to-face and/or over the phone offering intensive, hands-on intervention whenever required.
This meant I always had someone available for whatever life threw at me.  Fears and anxieties don't wait for the next appointment time to come up so this solution meant they could be dealt with as and when, which enables rapid progress to be made. As part of the nature of the programme, once you start working with Helen, new work and opportunities start popping up.  As the programme progresses and your life starts moving again, new situations come up.  Helen is there to guide you through these, so you can say 'yes'  with confidence to all that life has to offer again, knowing you have the support at hand to catapult you through any stumbling blocks or difficulties.  In my opinion this level of care and on call accessibility is not actually reflected in Helen's fee. Considering calls, or sessions can be at any time of night and day, can run for periods of 5 hours as an average, and into the early hours, and the actual time you interact with Helen is not the end of it. There is also all the 'behind the scenes' monitoring, thinking planning and strategising that Helen does. When all this is taken into consideration and broken down, her rate is actually embarrassingly low for such a personal, flexible, exclusive service.
Helen's programmes are excellent value for money. When I did my first premier programme in 2011, I was offered 2 pricing options depending on how much of Helen's time I wished to purchase. I chose the higher value one and the reality has been that I have got the financial value of my investment returned in multiple through new work and other bonuses, as well as permanent health, wellbeing, performance and effectiveness benefits, each one singularly that I would rate worth the value of the whole programme alone.
The results I get working with Helen continue to be more and more evident in my life in the months and years later.  They do not require going back to top up, I go back to get new benefits. The more I work with her, the more effective I become, hence my decision relocate to work with her more intensively on one of her premier programmes in 2011.
Helen doesn't work with everyone at a premier service level. You have to go through a vetting procedure and she always thoroughly explains the programmes, so you can see if it is the right thing for you. Helen assesses whether she thinks you can cope with the process, the extent of the change and what you have to go through to achieve it.  She considers your personal situation, your responsibilities, your financial position, earning potential and ability to generate income.  I have seen her turn down and not work with people she thinks are not up to it, despite their ability to pay.  Helen has taken my personal finances into consideration throughout to help facilitate my unbroken progress and had allowed me allot of payment latitude and let me work with her on a credit basis.  I am very grateful to her flexibility on this front as I know it has come at a cost and inconvenience to herself.
Working with Helen, nothing is predictable, standard or boring. Helen knew the answers I had been searching for my entire life.  Through her I came to understand the amount human beings are affected by conditioning, beliefs, and invisible controls from past experiences, society, friends and family. How restrictive and unproductive the carrying of emotions and side effects such as anxiety, fear, shame, hate and guilt is.
Helen opened my eyes to how the track a person's life is on is pretty much set on an unchangeable course depending on their childhood experiences and upbringing. At age 41 I got a rare and unique chance to change this. Helen's methods advocate and enable a whole new way of life, and one of accountability and responsibility. Helen says 'There is a reason for everything, and that reason is you'. I decided it was time for me to stop blaming others, looking for external excuses and face-up to myself and then do something about it and it has been a privilege to work together with Helen with this aim.
Once Helen's concept is experienced and understood, nothing else makes sense and is a waste of time and money. Everything else pales into insignificance. I unreservedly recommend Helen. Her services and extraordinary skills are exceptionally rare and highly effective, especially in cases where all else has failed and you don't know where to turn. If you do the same thing as everyone else, you get the same results.  In trying something else I got the solutions I had searched my whole adult life for. I consider the whole experience priceless. Helen saved my life. I am forever grateful".
Roz's Credentials
ROZ WOODWARD – CREDENTIALS/PROFESSIONAL BACKGROUND
Roz Woodward, 45 year old, BA (Hons) Graphic Design, Electronic Imaging post graduate (PgDip)
10 years employee with Getty Images International Stock Photography Agency.
Digital imaging pioneer, founding member of the original Getty Images Digital Design Team and producer of high grossing digitally manipulated images, for use in global advertising, and editorial campaigns.
11 years running own Digital Imaging & Design Business serving award winning London photographers and working on Association of Photographers award winning imagery.  Worked on imagery for blue chip companies such as Sainsbury's, Apple, Direct Line Insurance, The National Opera, Ligne Roset, and The Guardian. Digital quality advisor for the Natural History Museum, Wildlife Photographer of the year. Commissioned illustrator and UK illustration recruiter for Hong Kong based 'Creative Art Mix' working on design submission for Walmart.  Provided design services for US Indy car driver Justin Wilson, Investors PLC.  Designed and maintained website till 2011 for US Indy car driver Stefan Wilson.  10 year working association with Royal Academician painter, Anthony Whishaw.
Scaled down business whilst being a carer for terminally ill parent in the advanced stages of Parkinson's disease.  On admission of parent into care home undertook a Personal & Professional Natural Positivity Programme to address issues of lifestyle, health and wellbeing and with aim to re-launch business.  Helen Wingstedt assisted in the rebranding and promotion of my services as – 'All Things Image' which has resulted in the expansion of my business and gaining new contracts.

– Currently PA for No.1 classical music chart topping musician Margaret Rizza. 
– March 2015 onwards, providing digital imaging consultancy services to the Royal Academy of Arts, London.